Donate your Vehicle
Donate Your Car to Big Brothers Big Sisters to Give Hope a Ride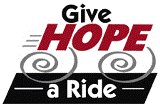 Donate Your Car to Big Brothers Big Sisters
Through Give Hope a Ride Vehicle Donation Program
Whether your car starts or not, donating it can certainly start something in your community. Big Brothers Big Sisters has partnered with Give Hope a Ride to help us raise funds through the donation of your unwanted vehicle. Donated vehicles qualify as charitable gifts and may be eligible for a tax deduction.
We welcome cars, motorcycles, SUV's and trucks.
The process for donating is simple. Just call the Give Hope a Ride Vehicle Donation Program at 505-277-2066 or follow the easy steps below to arrange a pickup for your unwanted vehicle. The vehicle will be picked up, processed, and sold to help kids in your community.
How to Donate Your Car:
Step 1: Click Here, then input your information. You will be asked for your vehicle's make, model, vehicle identification number (VIN#), and current mileage.
Step 2: After your contact information is received, you may expect a call from the towing company within 72 hours to make arrangements for pick up at your convenience. Special arrangements can be made for rush orders.
If your car is in driveable condition, you can also bring it to us and help us save money. Please call Give Hope a Ride at 505-277-2066 for the drop-off address and directions.
Step 3: Your vehicle will then be sold at auction. With all costs deducted, Big Brothers Big Sisters of Central New Mexico will receive approximately 75% of the gross sale price. 
Click Here for Frequently Asked Questions about donating your vehicle. 
Copyright © 2007- Give Hope a Ride, a program of Casa Esperanza Endowment Foundation, Inc., Albuquerque, NM. All Rights Reserved. The GIVE HOPE A RIDE LOGO is a registered trademark of Casa Esperanza Endowment Foundation, Inc. and may not be used without written permission.  "New Mexico's Nonprofit Vehicle Donation Program" is a trademark of Casa Esperanza Endowment Foundation, Inc.