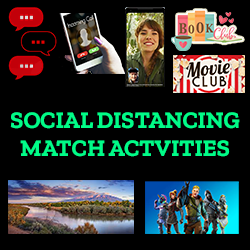 Social distancing can begin to feel like social isolation. Don't let your Little question your commitment to him/her simply because you can't meet in-person. Here are some ideas for how you can practice social distancing while still doing activities together:
Talk, text, or email together (appropriately and with parental awareness)
Start a book club or movie club. Sharing the same book or movie is a great conversation starter. 
Become pen pals. Writing is a lost art. Write your Little a letter and send it through US Mail. They'll get a kick out of getting something for them in their mailbox.
Learn how to play the Fornite games (or any other game) that people are talking about. Many gaming systems including PC versions have ways for you to play together.
Start meme war. Show your Little how creative you can be in creating memes.
Make a list of places you want to go to and thinks you want to do once social distancing is lifted.
Go for a walk or a hike in the Bosque or just around the block. Remember to stay six feet away from each other.
Do a virtual museum tour together. Here is the link.. 
Call your match support specialist. He or she will work with you to find ways for you to connect with your Little during this time. 
Do you have other ideas? Let us know by sharing them your MSS. Together we will conquer social distancing obstacles.