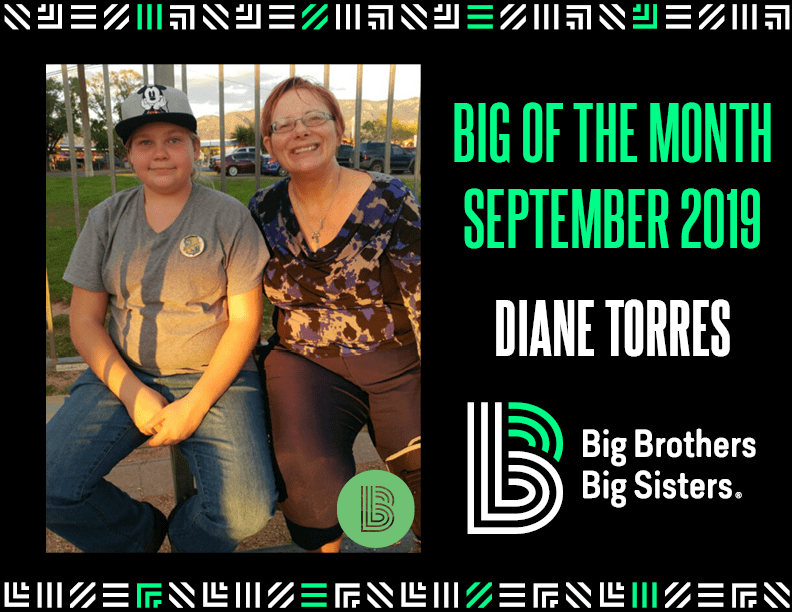 Dedicated and consistent are the best ways to describe Dianne's role in her match with Shelby. This Big Sister has demonstrated in the 5 years that she has been in the match that she is there for her little sister no matter what. Shelby has had a variety of medical, and mental health concerns both for herself and within her family including the death of her aunt no too long ago. Dianne has been right there with Shelby through these things and even attended the aunt's funeral in support of her Little Sister. Dianne also makes sure to send her little post cards when she is traveling.
Dianne and Shelby frequently attend BBBS activities and try a variety of different things. Big Sister and Little Sister have also established a couple of activity traditions. For Christmas Dianne takes Shelby to Build a Bear to pick out an animal and then they go back for Shelby's birthday and pick out an outfit. In addition, each year they bake cookies at Big Sister's house to take to a cookie exchange. Another activity Shelby talked about that she really enjoyed was going to read to the animals at animal humane. Shelby highlighted the calming benefits for both people and animals in doing the activity and looked forward to volunteering with Animal Human in the future. Dianne is flexible and understanding if Shelby does not feel well for any reason and will adjust accordingly.
Shelby's mom Stacy commented that she feels Shelby has been exposed to new things, different cultures and perspectives since being a part of the match. With the many supports including, her Big Sister, Shelby's mom reports that Little Sister is developing a more positive outlook. Shelby still has challenges to work through, but there is no doubt her Big Sister will be there for whatever she needs.
Thank you Dianne for being a great Big Sister!