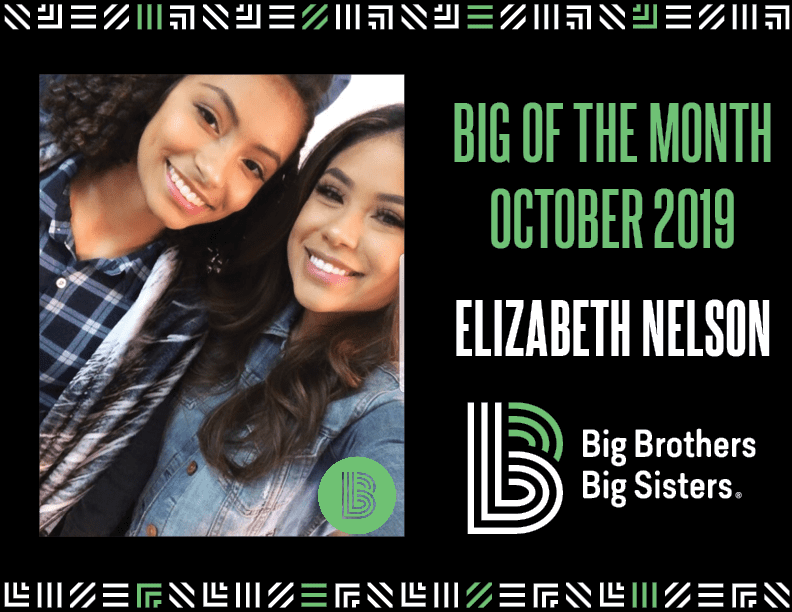 Big Sister Elizabeth is a bubbly, outgoing and kind-hearted young woman who grew up with two older sisters in a tight knit family. She considers her family members the most significant people in her life. Because she has such a great relationship with her sisters, she decided that she wanted to be a Big Sister to a little girl who didn't have one. So, as soon as she was old enough, she volunteered at Big Brothers Big Sisters.
Elizabeth was matched with Isolina six years ago when she was only 19 years old and Isolina was 11 years old. They had an immediate connection. They would meet almost every weekend to go to the zoo, work on arts and crafts projects and watch movies. The time they spent together helped them develop the strong bond they have today.
About a year after they were matched, Isolina had a very big problem at school. She was being bullied by one of the other girls. Isolina tried working with her teachers, counselor and principal to stop the bully, but it got so bad that she told her Match Support Specialist, "I don't want to go to school anymore." Coincidentally, Elizabeth had also been bullied as a "tweenager". The matched talked about the issue and decided the best way to solve the problem was to "kill them with kindness." Eventually, Isolina's bully became her friend instead of her enemy.
Today, it is a little harder for Elizabeth and Isolina to find time to spend together. They are both busy with work, school, and life in general. In fact, Isolina is a high school senior who is currently taking four college-level classes at CNM which take up most of her time. The pair, however, believes it is important for them to communicate on regular basis, even if it is only on social media, and be there for each other for the important occasions like birthdays, homecoming, and whenever either of them needs a friend. There is no doubt that they will be friends forever.
Congratulations, Elizabeth! Thank you for being a great Big Sister.