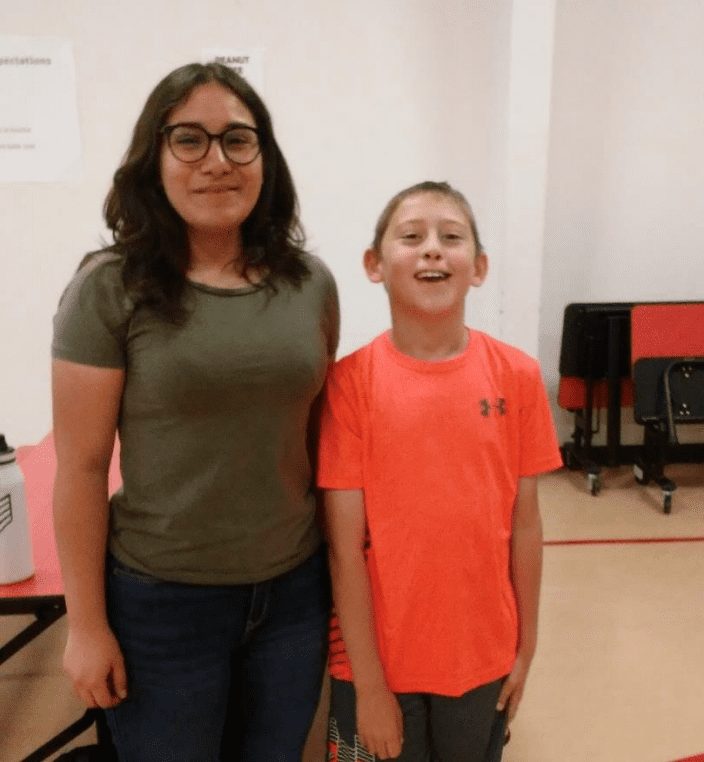 Little Brother Joey and Big Sister April have been matched for the last two academic years. They were first matched in October 2018 in a S.T.A.R.S. Site Based match in the Yucca Elementary After School Program. Little Brother Joey was a 3rd grader and Big Sister April a High School Big, who first became involved with Big Brothers Big Sisters through the Child Development program at Alamogordo High School. During their first year together, they spent an hour each week playing games and doing crafts that help build strong friendships and academic skills. They also worked on multiplication together, played Moby Max and worked on reading.
This last year the two spent their time having lunch together and working on teacher directed assignments. Little Brother Joey prefers for the two to sit in the school lobby instead of in the cafeteria because they can better visit and talk there. April has been so dedicated to her Little Brother that she rarely missed time with him and walked weekly from the high school to Yucca Elementary regardless of the weather. She knew her Little Brother would struggle if she missed a week. Big Sister was so concerned when the schools shut down due to COVID-19 and was worried about not seeing or talking with Little Brother. Both were so excited to see and talk with each other through our Zoom meetings and have been playing Hangman together.
Little Brother Joey will be going on to the fifth grade next year and this year Big Sister April is graduating and planning to attend college at Adams State University in Colorado to study nursing. Joey clearly enjoys meeting with his Big Sister and says she is nice, fun and helpful. His favorite thing to do with his Big Sister is to color and play outside. Big Sister April says Joey is creative and energetic. She has really enjoyed being Joey's Big Sister and plans to continue meeting with him through Zoom until she has to leave for college. This match has been an amazing match to observe as the two grew into such great friends and this is why they have been awarded the Big BrothersBig Sisters in Otero County Match of the Year 2020.