Keep Kids Connected
A National Campaign to Defend the Potential of our Youth
We hope you, your family, friends, and co-workers are well during this time of uncertainty.

We would like to give you an update on the status of our agency. Big Brothers Big Sister of Central NM is still very active during this time of social distancing. Our staff and mentors spent over 12,000 hours supporting mentees during the stay at home order and have matched 70 boys and girls in our agency. We also connect our mentees and their families to resources like food, assistance with shelter, and funding to keep afloat during this time. Our Match Support Specialists are personally contacting and connecting with our 1,600 mentees and their families to ensure they are taken care of.
Requests to our team for essential services -- food, healthcare, rent assistance, behavioral health -- increased by more than 6,000%.
Our area's most marginalized youth are even more vulnerable now that they've lost one of their main support systems: schools. Cut off from classes, teachers, and peers, New Mexico's kids are experiencing elevated levels of trauma as their families lose their livelihoods and connective networks.
Big Brothers Big Sisters of Central NM is uniquely positioned to provide personalized out-of-school, virtual support, and our mentors continue to serve as a vital source of consistency and connection. Simply put, your support is more vital than ever before.
COVID-19 is affecting all of us and is greatly affecting the families Big Brothers Big Sisters of Central NM serves. There's still a lot of work to do. We are experiencing a budget shortfall of $484,000 this year. We are asking individuals, businesses, and community organizations to make a financial commitment to invest in keeping NM's youth connected to their mentors. 100% of the funds raised will go to our agency.
Help us bridge this gap: Make a gift to BBBS-CNM by August 7th at https://www.giveffect.com/campaigns/15416-keep-kids-connected

On August 7th from 2:00pm-3:00pm EST we will be streaming our first, national, Keeping Kids Connected virtual event. It will contain testimonials, interviews, and media that highlights the essential work that we do. This event will stream nationally on social media platforms including Facebook and YouTube, to over 212,000 viewers. The program to include A-list celebrities and influencers who will share their stories and support for BBBS. This would also be a good time for people to learn more about our impact and become a mentor. You are invited to attend and stream this event to your network.
Thank you. Thank you for believing in us. Thank you for believing in the families we serve. And thank you for standing shoulder to shoulder with us for the last fifty years and now, as we face the challenges ahead. We won't stop fighting for New Mexico's youth.

Make a one-time or monthly investment and personally take a stand to keep New Mexico's youth connected.
Through the CARES Act, from March 27 through Dec. 31, 2020, your donation up to $300 is tax deductible. If you do NOT itemize your taxes, you can deduct up to $300 without having to itemize the claim. If you DO itemize your taxes, you can deduct a charitable contribution at 100% of your adjusted gross income.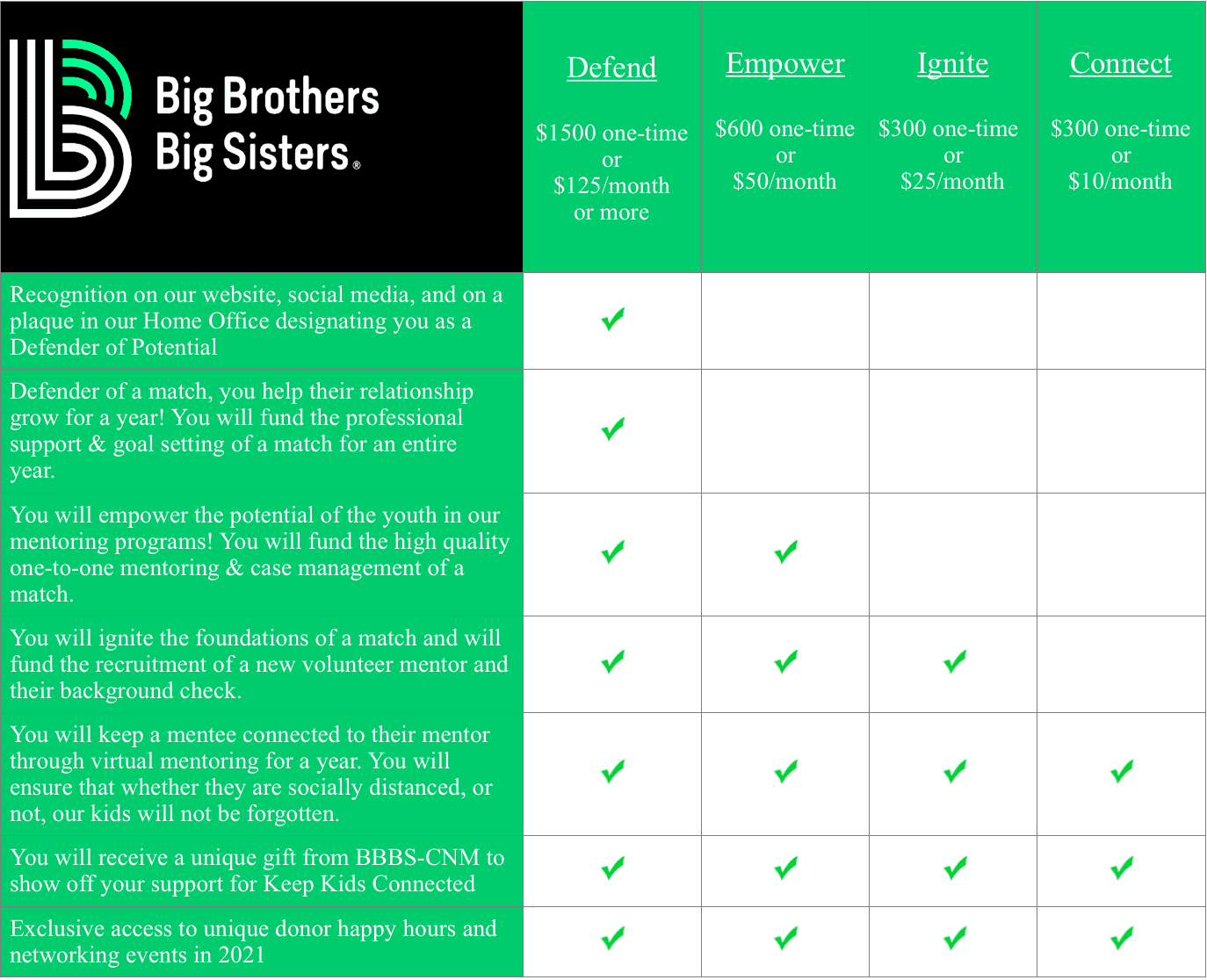 P.S.- Maximize your impact by becoming a monthly donor by August 7th at www.bbbs-cnm.org/keeping-kids-connected/. Monthly support ensures Matches like Juan and David (pictured above) stay strong during this crisis and in the future -- and that BBBS-CNM's Match Support Specialists continue their proactive outreach to marginalized families.