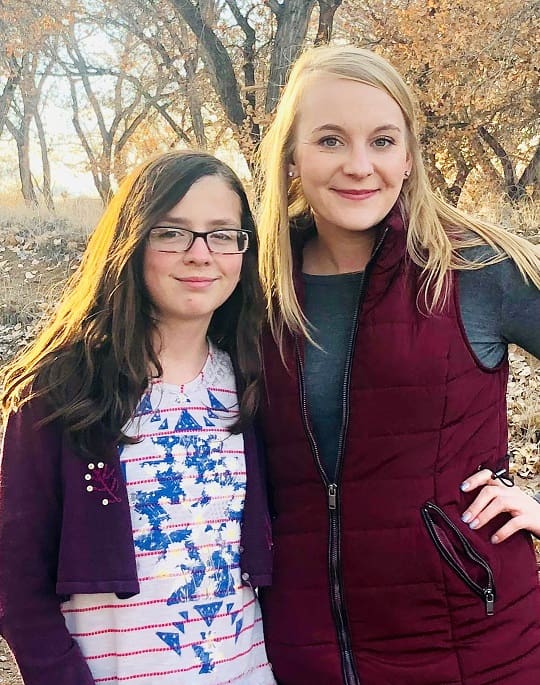 REBECCA DEBERRY

Little's Name: Trinity
Match Date: January 2015
Rebecca had a history of volunteering before she reached out to Big Brothers Big Sisters in the fall of 2014. She had spent many hours at UNM Hospital and Ronald McDonald House supporting children who were very ill and their families. While she was fulfilled spending time at both organizations, she wanted an experience that gave her a more personal connection to someone, which is why she decided to become a Big Sister.
Rebecca's Little Sister, Trinity, lives with her father and brother and doesn't have very many positive female role models in her life. Joseph, Trinity's father, saw her hanging out with the boys at school and realized that she didn't have any girlfriends. "Trinity needed positive girl interaction," says Joseph. "I knew she would benefit from someone with whom she could do girly things." After doing a little research, he decided that Trinity needed a Big Sister.
Trinity and Rebecca were matched in January 2015. The match meeting started off a little awkward, but once they started talking with each other, they found out they have a lot in common. Rebecca recalls, "We talked for almost two hours at the office after the match meeting. We talked for so long that the staff had to ask us to leave the office because they were closing for the day." The pair continues to have a lot to talk about, four years later.
Trinity appreciates that her Big Sister will listen to her and provide advice on anything that she is experiencing. Trinity credits her relationship with Rebecca in helping her become friends with more girls. "Spending time with my Big Sister helped me understand how to act with other girls," says Trinity. "Now, I have a lot of (girl) friends."
In addition, Rebecca says she has seen many other changes in Trinity. "She is more social, more willing to try new things, and is doing better in school. When we first met she struggled with reading. She is now at the proficient level." Together, Rebecca and Trinity make a great match.
Congratulations Rebecca for being our first Big of the Month of 2019.