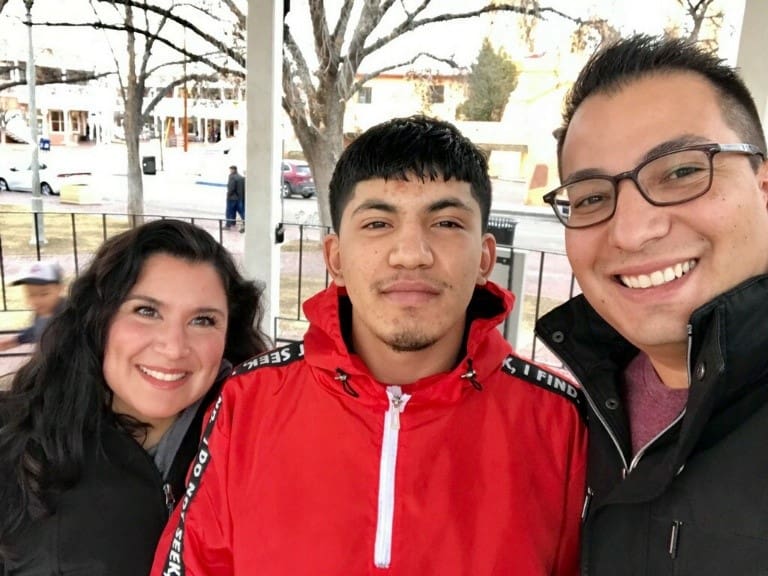 Bigs' Name: Juan and Elise Sedillo
Little's Name: Dylan
Match Date: March 17, 2010
Juan and Elise will be celebrating their 9 year match anniversary with their Little Brother, Dylan, in March. Dylan was only seven years old when he was first matched with the couple. Over the years, Juan, Elise and Dylan have a participated in a variety of activities that have made for great memories together. They have attended Lobo basketball games, seen what seems like hundreds of movies, and visited nearly every museum in town. The relationship isn't all fun and games. The couple has also spent many hours with Dylan working on his spelling, helping him improve his math skills, and completing homework projects.
When Juan and Elise were first matched with Dylan they made a promise to him to see him consistently and to support him through the difficult transitions in his life. This year, Dylan got to see just how committed Juan and Elise are to him, as they support him through a challenging time in his life. Dylan says, "I appreciate that my Big Brother and Sister have been so supportive during this time and I'm glad that they have stood by me." Knowing that Dylan was having a difficult Thanksgiving, the couple dropped by his home with a pie and encouraging words.
Reflecting on their match, Juan and Elise said, "BBBS placed Dylan in our lives and we will forever be grateful. He's a great person and growing into an adult with so much potential. We love seeing him do well and watching him develop. However, when he experiences difficult challenges in his life, we also know how important it is for us to be there for him and try to our best to support and mentor him."
Congratulations, Elise and Juan! Thank you for being a great Big Couple.