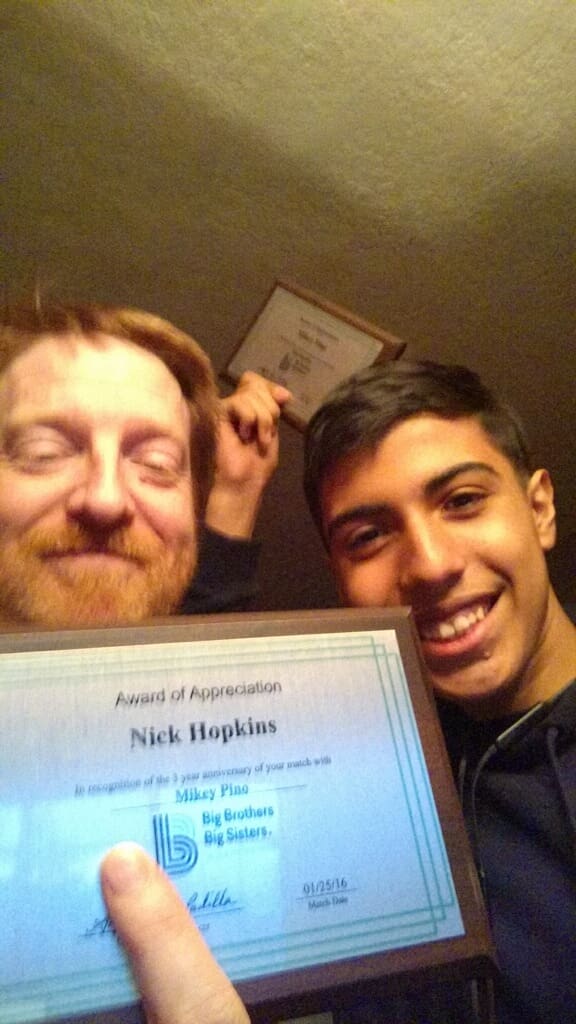 What do two like-minded guys do when they get together? Nick, and his Little Brother, Mikey, find fun, yet simple, activities to occupy their time. They are always up for exploring new hobbies such as going to the archery range, Amtgard – a medieval and fantasy sport, or visiting the Route 66 Diner for one of their famous milkshakes. It doesn't always have to be an adventure when they are together. Truthfully, some of their most memorable moments tend to be when they are just hanging out, running errands, or playing a board game.
Nick was matched with Mikey when Mikey's father was in prison. That's when Nick became Mikey's primary male role model. And, what a role model he has been! Nick has helped Mikey come out of his shell, explore new things, and strive to be a better student. In fact, Mikey's grades improved so much that he made the honor roll this past semester and was honored at an assembly which Nick attended to show him how proud he is of him.
Mikey's mom says, "I am grateful for the 'Nick's' of this world that care enough to dedicated their time selflessly to help mold our younger generations. Words cannot express how Nick and Big Brothers Big Sisters has impacted our lives."
Congratulations, Nick! Thank you for being a Big Brother.