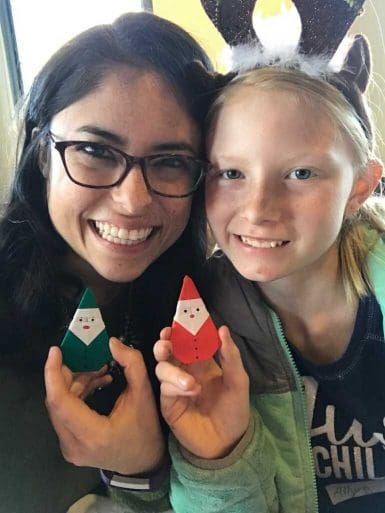 Big's Name: Leticia Gomez
Little's Name: Allyra
Match Anniversary: November 23, 2015
Little Sister, Allyra, loves to bake. In fact, she wants to own her bakery (or several bakeries) when she grows up. While she loves to bake, she doesn't get much of an opportunity to do it at home. Allyra lives with her aunt, uncle, and two cousins, and between homework and afterschool activities there isn't a lot of time to bake as a family.
That is what makes her time with her Big Sister, Leticia, so special. She gets to do all the fun and creative things with her Big that she doesn't get a chance to do at home. Allyra especially likes to try new baking recipes when she visits Leticia.  Leticia says, "Allyra is extremely artistic. She is an incredible baker, writer, drawer, painter. . . there isn't anything creative in which she doesn't seem to excel." Reluctantly, Leticia admits that she isn't as artistic as Allyra and that some of the activities they do together push Leticia out of our comfort zone. She continues, "That's one of the best parts of being a Big. I learn as much from Allyra as I hope she learns from me."
Allyra's aunt, Johanna, says Allyra and Leticia are best buddies and she is grateful Leticia is in their lives. When Johanna enrolled Allyra in the program three years ago, she was hoping that Allyra would be matched with woman who would be there for Allyra, but was also a good role model for her niece. Leticia is exactly that person.
"Leticia is a neat young woman. She is smart, studious, and gives Allyra the personal attention that she needs" says Johanna.
While Leticia is our Big Sister of the Month, Leticia knows Allyra will grow up to be an extraordinary woman. "One day Allyra will take over and run the world" says Big Sister, Leticia Gomez, about her Little Sister, and she plans to be by her side when she does.
Congratulations, Leticia Gomez, July's Big of the Month. Thank you for all that you do!